NEW! Stress Positive Eye NEW! Lift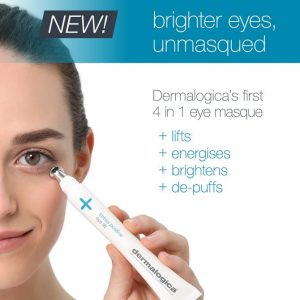 What is it? Stress Positive Eye Lifts a high-performance eye treatment and masque that energises skin to reduce visible signs of stress.
How it works? This active, cooling cream-gel works with the skin to brighten and energise the eye area, while seawater extract and arctic algae  minimise the look of puffiness and dark circles.
Skin conditions: All skin conditions but particularly the sleep-deprived mum, burning the candle at both ends or just  a BUSY life.
Key Benefits:
Application: Apply generously around cleansed eye area using the cooling massage applicator. Leave for 3 to 5 minutes. Massage any excuse product into skin, or tissue off. Use as needed for a quick boost, or daily to address signs of chronic eye fatigue.
Come and meet the NEW! Stress Positive Eye Lift
Buy Stress Positive Eye Lift and your recommended Dermalogica Eye Product and get a Soothing Eye Make-up Remover FREE!
Buy Stress Positive Eye Lift and receive a eye lift skin solver FREE!
Book your Eye Lift Microzone for £25.00 and receive £10.00 off Stress Positive Eye Lift